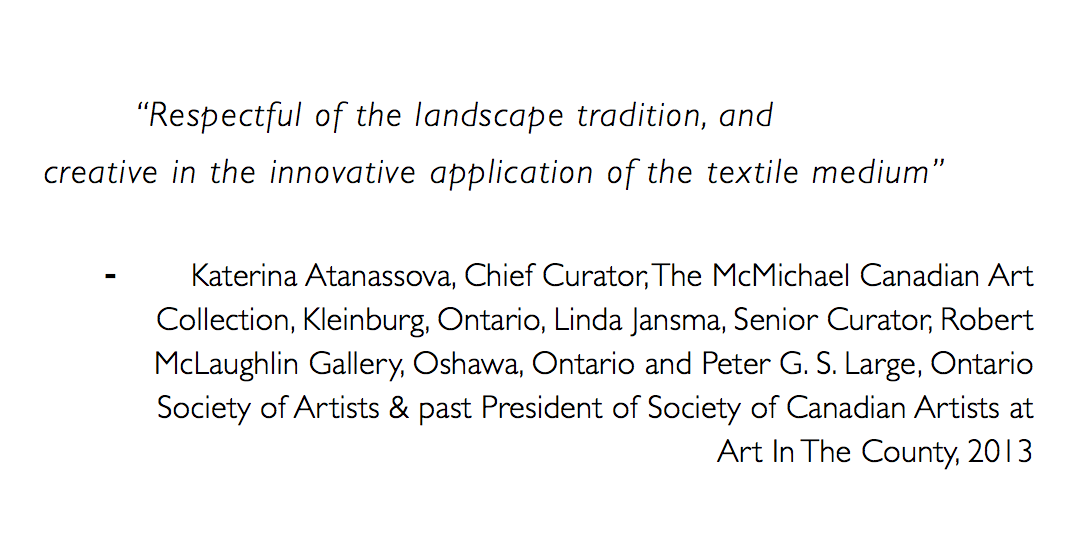 Land-Scape-Land-Fill-Land-Slide– Artful Waste
To create my landscape tapestries I use reclaimed, discontinued fabric samples that are slated for disposal by textile showrooms that facilitate the Interior Design industry. My values on sustainability are mirrored in my work and stem from processes that do not harm our Earth. Land-Fill-Land-Scape-Land-Slide - Artful Waste, my on-going body of work, interweaves the message of the importance of recycling/reuse, within my medium.
I meticulously cut, pin and sew each article down on to another larger piece of rescued fabric, thereby simplifying the work into sections. Once these separate pieces are complete, they are sewn together to form the whole. Glues, dyes, interfacing or inks are never used. This self-imposed limitation in my method, slows down the process to an almost meditative state and requires me to become more intimately involved; in turn amplifying my creativity. As such, a 30" x 30" piece may take me up to 2 or 3 months to create depending on the detail; while a 50" x 50" has proven to work out to be approximately 5 months.
I believe these art landscapes should be seen in person in order to fully experience. Weighty and durable cotton piled fabrics such as corduroy are used to construct a rickety and weather-beaten wood fence; transparently thin organza is cut and sewn to capture its shadow. Like unsung heroes, a myriad of coloured threads work in collaboration with the fabrics, adding to the visual interest and tactile nature of the piece. My intention is to invite and entice the viewer for closer inspection and deeper consideration.
This form of eco-friendly art and creative process enriches me the most, as I witness my work evolving to create the organic forms that are densely layered, much like the fabric of the landscapes themselves.
Artist statement
Going back and being in nature nourishes and heals. This benefit is what drives my passion for Prince Edward County, the special place. Walking her trails, which have been packed by feet before me, beneath the reaching trees, fills me with a sense of peace, gratitude and inspiration. All of my senses are enlivened by the natural landscape and elements.
This is in sharp contrast to the modern, fast paced world in which we live. Technology enhances lives and increases one's breadth but rarely one's depth. I value and seek the notion and the various states of depth. A depth of thought and connection, which has been given the time to take root; depth of place, which is established over time and depth of a purpose-filled life, which feeds our being.
Thank you for your consideration of my art.